Information Design is Visual representation of information, specifically the visual communication of complex idea(s).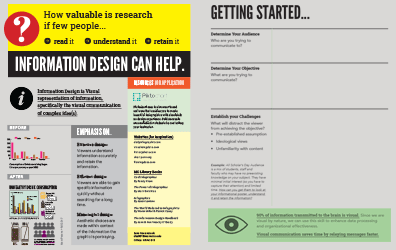 Worksheet available to give you information to get started determining your content.
DETERMINING CONTENT
Determine Your Audience
Who are you trying to communicate to?
Example: Parents
Determine Your Objective
What are you trying to communicate?
Example: Get parents to avoid serving high-sodium foods to their kids.
Establish your Challenges
What will distract the viewer from achieving the objective?
Pre-established assumption
Ideological views
Unfamiliarity with content
Example:
Parents need (prefer) convenient foods.
May not understand the severity of consequences.
Assumption that because they don't add salt to their foods—they're low sodium.
Books
Available at Marietta College Library
Cool Infographics
By Randy Krum
The Power of Infographics
By Mark Smiciklas
Infographics
By Jason Lankow
The World Reduced to Infographics
By Worm Miller & Patrick Casey
The Information Design Handbook
By Jenn & Ken Visocky O'Grady